I've said before on this blog that I'm not a big fan of excessive photoshop manipulation, but this image is certainly a notable exception. First, a bit of background: this fountain sits just in front of the main library on campus, and for a while now I've wanted to get a shot just like the one you see here with the water streaming while a passer-by strolled behind it. Shooting this with a 50mm lens presents some problems, the first of which is light or, rather, the overabundance of it. Without a neutral density filter to block out some of the incoming light, shooting at a slow enough shutter speed to get motion blur requires a super low ISO and super small aperture. On a bright sunny day an aperture of f/16 (the smallest aperture my 50mm lens will shoot at) and ISO 100 requires a relatively fast shutter of 1/30 or 1/60 which is far too quick to get the motion blur I was looking for. Another problem is that of proximity: a shot like this requires the photographer to be somewhat close to the fountain since prime lenses don't zoom. And finally there was the human element, which was quite out of my control since I had to wait for someone to casually stroll by.
On a recent rainy day all these elements came together: the light was dim so I could shoot at a slower shutter speed, I was able to stand on an edge of the pool at the base of the fountain to get close, and there were enough people strolling around for me to get a shot of one of them walking past. This left another problem though: I shot this handheld at 1/8 second, which meant it was very difficult to get a clear picture without any background motion blur. The only blurry elements I was wanting were the person and the fountain, and at 1/8 second even the smallest movement of my camera would result in a noticeable blur in the brick background. My solution to this was to shoot in continuous high-speed mode which is about 5fps on my D200, hoping that I'd at least get one shot that was clear. Turns out I did, but it wasn't the shot I was hoping for. This, then, led to a bit of photoshop trickery. For reference, here's the original picture as it was shot:
Everything is nice and clear, but there's one big problem: the pedestrian is way too far to the left. Thankfully I did get this shot a fraction of a second earlier:
Bingo! The guy is precisely where I wanted, but the photo is all blurry thanks to my shaking camera. I used Photoshop to cut and paste the walker from this image into the first one, but then I also had to remove him from the left-hand side of the original as well. As luck would have it, there was a third (mostly) clear picture I could use for filling in the left-hand side: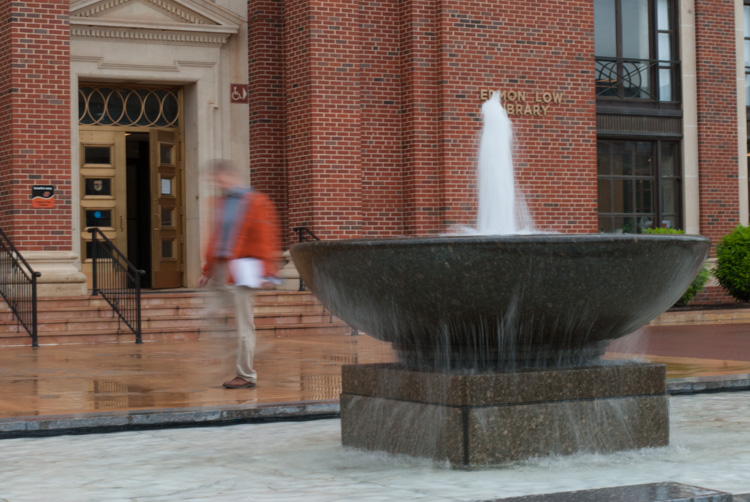 The final image, then, is a composite of all three and since I was already doing plenty of Photoshop alterations I went all in and removed the signs and icons from the library doors. I figured if I had already committed to altering my picture, I would go ahead and make Lando Calrissian's worth nightmares come true and alter it even further.
This raises some serious questions that every photographer must grapple with, and have been trying to answer for decades even before Ansel Adams was dodging and burning landscapes in his darkroom: how much image manipulation is too much? When does a picture cease to represent reality and become merely an interpretation of reality? What responsibility does a photographer have when presenting his or her images to the world? What about the use of filters or color alterations such as Sepia or Black and White? There are no good answers of course, and every photographer is going to have a different stance on the matter. But if I could leave you with one piece of advice it would be this: be able to justify whatever editing decisions you make, whether to yourself or to someone else. Make your edits intentionally and for a purpose, and if nothing else you will sleep a bit easier at night knowing you at least had a reason for what you did :)