Before I say anything about this picture I need to make one thing clear: I do not condone the act of taking photos on train tracks. It's a stupid and irresponsible thing to do that can easily get you killed, and no life is worth losing just to get a picture. The only reason I took the photo you see here is because, as you can see, I wasn't even standing on the train tracks. Instead I was in the middle of a two-foot-deep trench that was left from when some repair crews had removed the section of tracks that crossed a local road. Since a large section of the train tracks had been physically removed from existence I figured it would be safe enough to get a picture by standing where they once were :)
On the day I took this I wasn't planning on taking any pictures as I biked to work, but since I don't get opportunities like this very often I thought I would stop for a few minutes and see what I could get. It was early morning so there was not a lot of light, but I needed a shutter of at least 1/90 second to minimize any motion blur. That meant a wide aperture of f/2.0 since I was trying to leave my ISO low, though in retrospect if I knew I was going to do a black and white version of the picture I would have probably stopped down to f/4 or smaller and bumped my camera up to ISO 1600. The foreground and background are each just a bit out of focus thanks to using such a wide aperture, but overall I'm fairly pleased with how this composition turned out.
When I was working with this image in Lightroom I wasn't quite happy with how the original was looking, and soon I realized that it was the colorization of the whole composition. As you probably know by now I don't do much black and white photography, but this one seemed like it would work out quite well so I tried a couple different filters and eventually settled on a modified version of Lightroom's green filter. (If you're not sure about how black and white filters work, here's an article I wrote for DPS that explains things a bit more) I like the way your eyes are drawn to the rails and the horizon, whereas in the original the focal point was less clear. This also imbues the picture with a twinge of nostalgia for me, perhaps because my dad worked on the railroad for nearly 40 years and I have so many memories of scenes like this from when I was a kid. I also had to crop the image quite a bit from the original that you can see below, and as usual I added just the faintest touch of post-crop vignette too.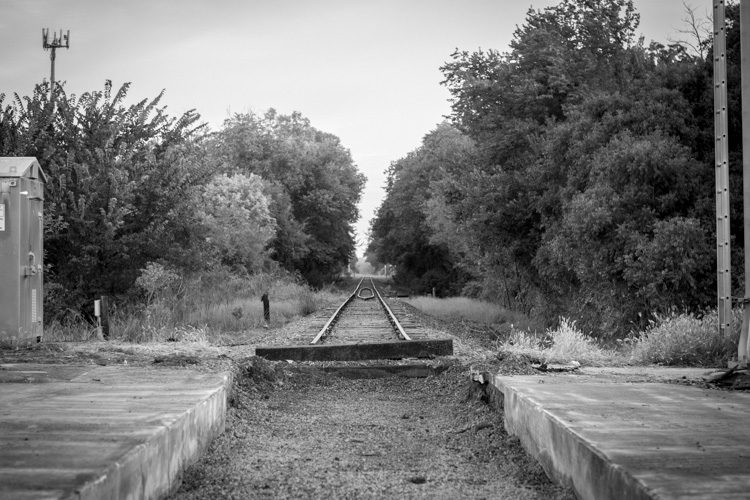 With all that being said, I just want to close with a bit of an imploration: your life is worth far more than a picture, and please keep this in mind when deciding whether to go for a particular shot or not. When it comes to trains and train tracks, stay away and admire them from afar.