The story of this picture, which is just a few of my kids' toys on the living room floor in the wee hours of the morning, begins with this talk by National Geographic photographer Sam Abell. In it he discusses, among other things, the process through which he created one of his most famous pictures, Pears in Window, Moscow. His presentation is kind of long but well worth your time if you have an interest in learning more about photographic composition, and one thing he discusses is composing your pictures in such a way that all the elements (foreground, subject, and background) all come together to form a cohesive whole. Now, this picture of a toy car is so far from one of Sam Abell's masterpieces that the two hardly seem worth mentioning in the same blog post, much less the same paragraph. Nevertheless I did use a bit of what I learned from Mr. Abell when I made this image so I thought I'd share it here.
I took this picture on a Tuesday morning before my kids were up and I just wanted to use my camera. I got out my D750 + 50mm combination and went around the house taking pictures of anything I could find, like a bottle of olive oil, some cups on the table, or a paintbrush that had been cleaned the previous evening. I didn't think about whether something would make for a good picture, but instead just focused on using my camera to make some images and if I didn't like them I'd just delete them. After a little while I came across this blue car on the floor surrounded by a balloon, airplane, and other sundry items which made me stop and think a bit about what I learned from Sam Abell.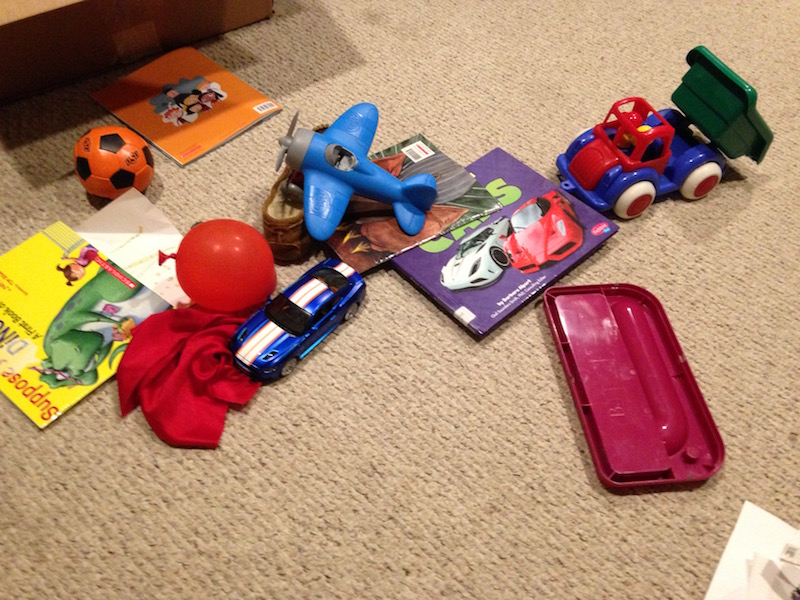 When he took the picture of pears sitting on a window ledge, he spent 12 hours trying to get just the precise shot he wanted. He looked at all the elements of the scene: the pears, the curtain, the buildings, the sunlight, the clouds…everything. He watched and waited and took several pictures throughout the day and it was only when all the elements came together that he finally got the picture which went on to become one of the most famous in the history of National Geographic. My picture of a few toys won't go anywhere and will be entirely forgotten by me and the rest of the world in a few days (and that's fine with me!) but nevertheless I tried to put into practice a few things that I learned from this master photographer. I moved the airplane just slightly to the left and propped it up with a slipper; I put a tiny flashlight behind the red balloon; I stuffed the red cloth under the front of the car. I also used live view and set my camera on the floor to keep it steady so I could shoot with much longer exposures of 3 or 4 seconds at ISO 100, and I focused manually to get precisely the right part of the car in focus. (Using live view you can zoom in to check that things are focused how you want them and then take your shot, which can be really handy sometimes.)
The result is not a special picture in and of itself, but instead it was the process of taking the picture that meant something to me and is the reason I'm sharing it here. It represents another footstep on the never-ending path of learning photography, and I hope will help inform how I approach other pictures from here on out.