The winter here in Oklahoma has been a little strange, with some days in the 60's and 70's and other days bitterly cold with freezing rain and even a little snow. This up-and-down pattern (or lack thereof) is still a bit of a surprise for a Northerner like me who still thinks of winters as perpetually snow-covered and well below 32 degrees on the thermometer. Not that I don't enjoy it, mind you, and in the nearly eight years since my wife and I have moved down here I have grown quite accustomed to making it through the colder months with jackets instead of wool overcoats. In fact I quite like it and I don't know if I'd ever want to go back :)
This picture was taken on January 17, the start of the Spring 2017 semester at OSU, at the edge of good old Theta Pond–the location of a disproportionally large number of Weekly Fifty photos. It was the first time in a while that we had such pleasant weather, and with temps in the mid-50's it made for ideal photography conditions especially with all the student activity that was sorely lacking in the preceding months. I just couldn't help myself and, because I had my D7100 + 50mm lens with me, went for a short walk to enjoy a few minutes of nature through the lens of my camera.
Even though I have taken what might be considered far too many pictures of Theta Pond I never really get tired of walking around it. At one point way back in the early days of OSU it was used as a watering hole for cattle, and in the years since it is has morphed into basically a man-made heavily-curated artifice and yet it feels so nice to just go and chill out on one of the benches, watch the geese and ducks, or stroll around on the sidewalks which is precisely what I was doing when I took this picture. I deliberately framed the fountain between the two trees on the right and shot with a 1/10 shutter in order to get a little bit of motion trails in the fountain. The only way to get a still image without a tripod was to shoot a burst of images and hope for the best, and out of a half dozen images this was the one that turned out the clearest. I actually overexposed the original by about a full stop in order to use a 1/10 shutter in bright daylight without an ND filter but thanks to the magic of RAW I was able to recover plenty of data in Lightroom.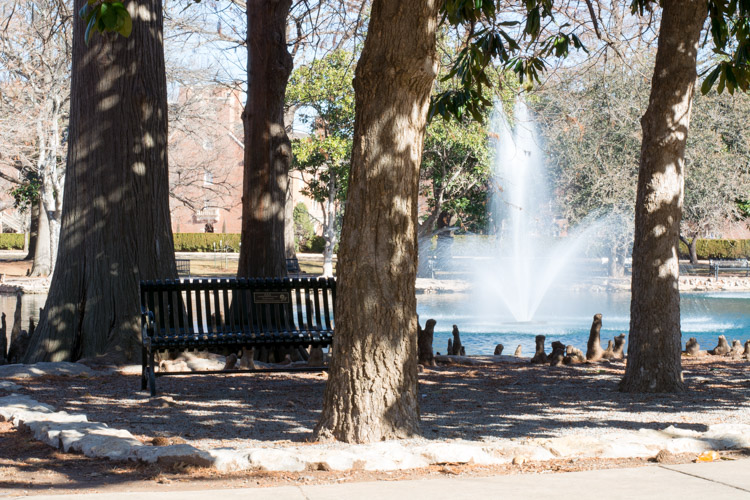 It's probably a bit cliché at this point to continue posting pictures of Theta Pond but what can I say…I like it and if you ever get the chance to visit OSU I'm sure you will too :)