This was a tough one.
Not just a tricky photo to shoot, but a difficult decision in terms of which photo to post. I came away from this particular picture session, if you could call it that, with a couple dozen images that I narrowed down to two finalists. The other was a similar photo but with more of a profile view of the rabbit, and I thought both were pretty solid. In a break from tradition I honestly couldn't figure out which one to post as this week's featured Weekly Fifty image, so I posed the question to my Instagram followers and decided to let them choose:
After one day of voting I tallied the results and this one was the winner, with the bottom picture coming in a close second. (The vote was six to five, so a close call to be sure.) I did take the advice of one of the commenters and crop in a bit more, which I think worked well and helped put a clear emphasis on the bunny as opposed to the surroundings.
This was one of those photos I certainly did not plan for, and was only able to get due to what I can only attribute to dumb luck and some (apparently) good-tasting weeds and grass in my back yard. My kids, my wife, and I were out in the back yard earlier this summer and as often happens there was a rabbit or two making a meal out of our lawn. The light was good and one of the rabbits didn't seem to mind all the human activity, so I ran inside and came back with my D7100 and 50mm lens. The trouble with that setup is that it's not exactly ideal for this type of picture since it requires the photographer to get close, very close, to his or her subject and when working with animals this can be a tricky bit of business.
I got down to a prone position and did a sort of army-crawl as I carefully approached the rabbit, who was well aware that he was being watched. Fortunately he seemed more interested in filling his tummy than running from a human with a big camera, though he did keep a careful eye on my activity and hopped out of the way when I started to get a bit too close for comfort. This crawl-shoot-hop-crawl again set of maneuvers continued for a few minutes while my wife and kids watched from the porch, all the while I was shooting at f/1.8 (to get as much depth of field as possible given the size and distance of my subject) and taking lots of shots hoping one would work out.
When I loaded the images into Lightroom I was a little disappointed initially because in every shot the rabbit was so very small in the frame: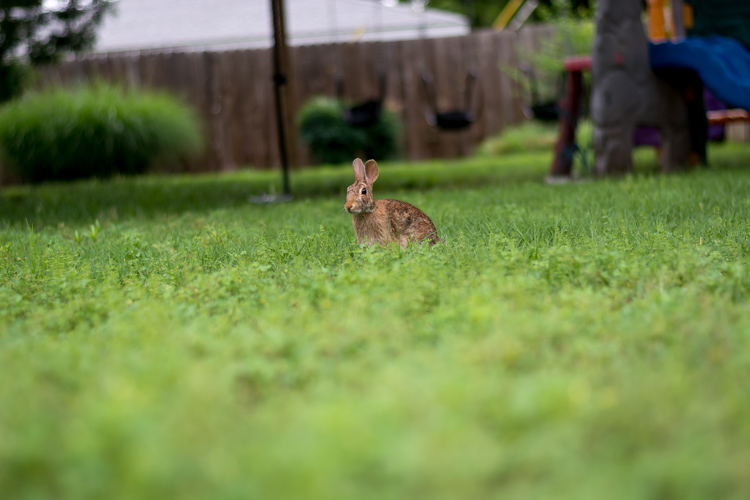 Not only that, but look at how busy the photo is! You've got a ton of grass in the foreground, a plastic play set on the right, a rope swing, some tire swings, a fence, and the list goes on. I thought the series of pictures was all for naught…until I started cropping. And this is where the magic of megapixels really starts to shine. Most cameras today clock in at around 16-24 megapixels, and my D7100 is right up there too. Thanks to the 24 megapixel sensor I was able to crop in really close to the rabbit and not really lose much in the process. It's nearly a 1:1 crop, meaning there is almost no room left for cropping without actually enlarging the pixels, but even so the final image (which is about 2.5 megapixels, or about 10% the size of the original) appears to still have plenty of color, contrast, detail, and sharpness. There's probably not enough data to mage a big print, like a wall-sized canvas, but for showing on screen or sharing on social media it's just fine.
I've often been known to tell photographers to not be afraid of pushing their gear: shoot at high ISO values, search the camera menus for tweaks to try, and a little rain or snow probably won't hurt things. I don't often advise people to do extreme image cropping, but…well, I guess the proof, you could say, is in the pudding. Or if you're Samwise Gamgee, the coney stew.