My kids have a habit of calling rodents and squirrels by the name "Peanut" ever since reading the Magic Tree House books where the two protagonists, Jack and Annie, adopt a mouse by that name. (Turns out the mouse is much more than meets the eye, but you'd have to read the books to find out why.) Hence the name of this week's picture which is really just a quick snapshot I happened to fire off before this squirrel scampered off to find food, shelter, or maybe just a playmate elsewhere on campus.
I often talk about the benefits of having your camera with you and here's a prime example of why it matters so much. In the four and a half years I've been at my current position at OSU I've seen squirrels wander outside on the ledge of my third-floor office maybe a half-dozen times. It's just not something that happens very often, and when it does I always like to pause what I'm doing and just sort of watch the little creatures do what they do. It's a fun little distraction to see them up close, and they usually just stick around for ten or 15 seconds before going back to whatever it was that they were doing.
When I took this I had my D7100 + 50mm lens with me and even though there are two panes of glass between me and the squirrel (with about four inches of space between the panes) I was able to get a fairly decent image. I didn't have time to do much in the way of composition but I knew I wanted to get his (her?) eye in the shot so I crouched down low, put my aperture at f/2.8, and focused right on the eye with the hope of getting a nice sharp shot. There was a ton of glare from the window in the original RAW file but nothing that a little Lightroom editing couldn't fix–mostly by adjusting the Highlights/Shadows/Lights/Darks sliders.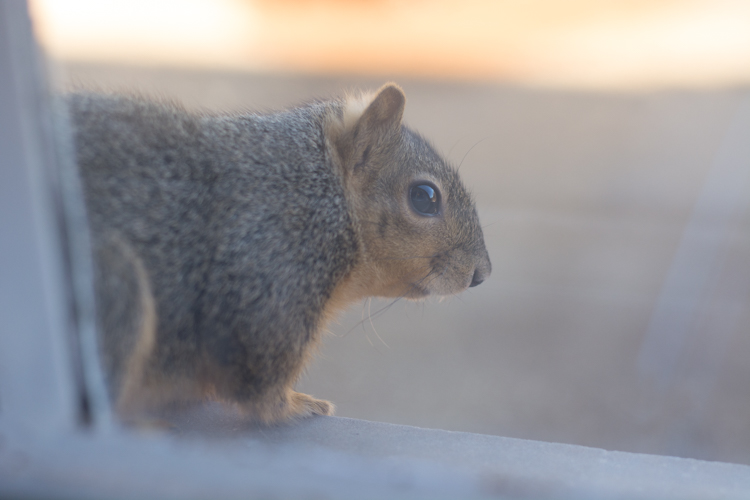 It might be a while before this opportunity presents itself again and if so, I'm happy to have gotten this shot while I was able to. It's fun to try things like this (I almost didn't even reach for my camera, thinking there's no way I could get a good picture) but I'm glad I went for it anyway.
I also want to note that this picture marks five years of doing this Weekly Fifty blog. Five years. I must admit that when I set out to do this blog so long ago I had no idea what was in store at all, and the entire time my goal has been simple: I wanted to use this blog as a way of holding myself accountable for taking pictures on a regular basis. Has it done that? Absolutely. But it's turned in to so much more, with a fantastic group of followers and commenters who have such nice things to say both here and on other social media platforms. (Mostly Instagram, though I try to keep the Facebook page updated too.) I can say with certainty that I am a better photographer now than when I started, and I appreciate all the comments, tips, kind words, and helpful suggestions so many of you have left for me over the past five years. I'm excited for the next five years and I'm so thankful to have all of you along for the ride :)