This is the first in a series of long-exposure sunset photo I'm going to share with you, all of which were taken in June of 2019 at Milford Lake, Kansas. Each year since 2012 our family has spent a few days at a resort on what is, apparently, one of the largest lakes in Kansas and it has yielded some really nice photo opportunities in the past. This year I wanted to try something a bit different and do some long exposures, which were only made possible thanks to the purchase of a cable-release for my Fuij X100F. It's a simple, no-frills piece of gear I had been thinking about buying for quite some time, and I'm so glad I finally got one. I don't see myself using it every day, but it sure was fun to see the creative possibilities it unlocked when shooting long exposures.
This was shot on the evening of June 22, and earlier in the day my kids, some of their cousins, and I came across this scene while out walking around: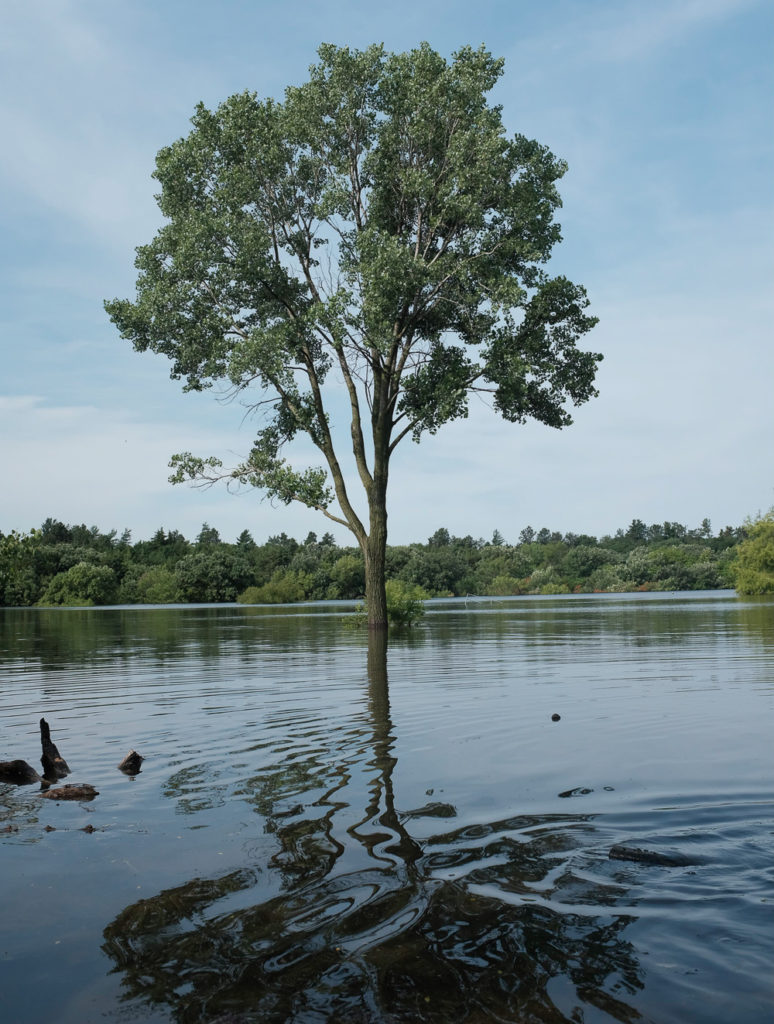 What you might not know from looking at this is that there should not be any water here at all. When we visited the resort this year the lake was at almost-historic levels, and everything in this picture used to be either dry ground or a parking lot. In fact if you look really closely you can see, just to the right of the tree, a metal railing leading downward alongside what used to be a staircase. So yeah, it was kind of an interesting year at the lake.
When I saw this scene with a tree in the middle of what looked like a lake I thought it would make for an interesting picture, so I returned that evening as the sun was setting and tried to capture in my camera what I was seeing in my mind. Calculating exposures when shooting in Bulb Mode is a little tricky, but I started by setting my aperture at f/16, activating the three-stop ND filter in my camera, and metering the scene based on a 30-second exposure. When that was showing about one stop of underexposure I switched to Bulb mode and left the shutter open for 77 seconds, which smoothed out any motion in the water along with giving the sky a bit of a painted feel, with clouds showing a bit of a wispy look. The slight breeze also gave the tree leaves a bit of a blur which I didn't like too much, but it's not nearly as bad in this shot as it was in some of the others I got.
All in all I had a lot of fun taking this picture, and it set the stage for two more long-exposure images that I would go on to capture over the next two nights.