I think I got my macro lens about a year ago. I'm not entirely sure, but I definitely had it for the previous Christmas season, which means I most likely purchased it around this time in 2021. In the subsequent time I have learned so much about taking close-up pictures, but also learned how very very little I know and have yet to understand. However, one of the most useful (dare I say important? I don't know if it quite reaches that level…) lessons that repeatedly demonstrates itself to be true is that you really can find photo opportunities anywhere. You just have to look for them. Case in point: this old paint can.
My wife and I were working on a project out in the garage that involved some wood which needed to be painted white. We got out some old cans of paint that had been sitting in our cabinet for years, pried off the lids, and saw that while one of them was still perfectly good, the other had solidified into a white crusty mess. No worries though–that's just one of those things that happens sometimes with old paint cans. It's all good. And it's even better when you can find a fun way to put said paint cans to use in another way, such as a photo opportunity. I thought the channel on the edge of the lid would make for an interesting subject, so when we were done painting I got my camera and tripod and set out to see what I could do.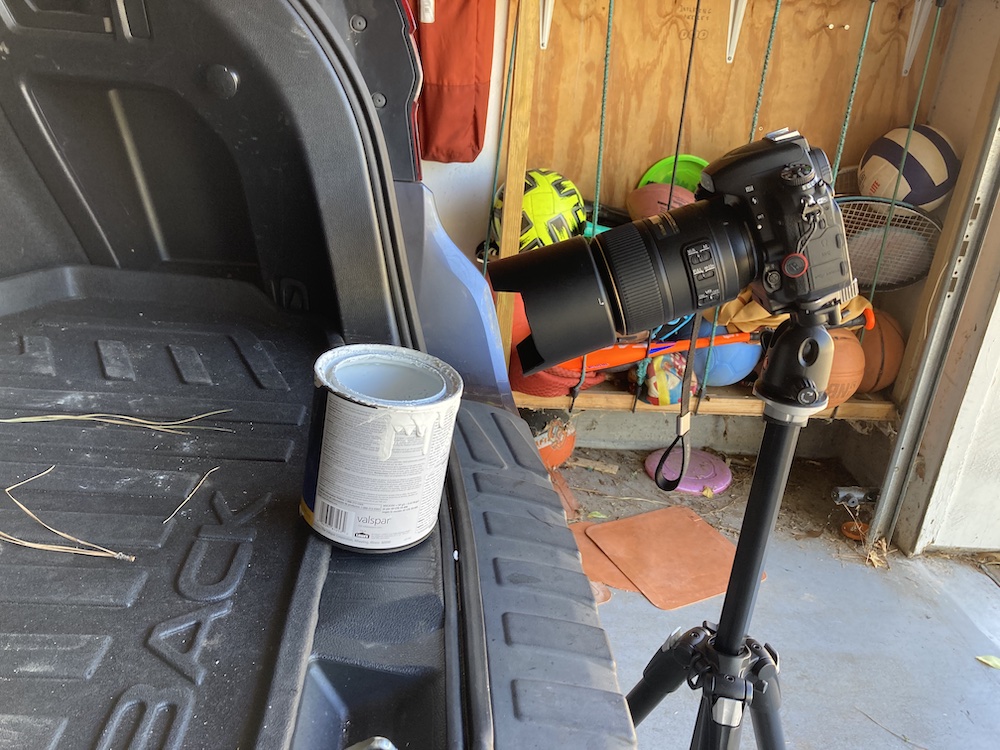 I didn't want to spend too much time with this setup since my kids wanted to go play in the yard, but I did take a few minutes to see if I could turn this paint can into something photo-worthy before chucking it in the trash. I used Live View to compose the shot, disabled Auto-ISO so I could get a nice clean image, put my camera on self-timer, and played around with several aperture settings while also rotating the can to get slightly different perspectives on the paint.
This was my favorite of the bunch, and while it's not perfect there is an awful lot that I like about it. First of all I'm very happy with how the crusty paint-filled groove turned out, and I'm very pleased with how I was able to get just enough in focus (thanks to an f/27 aperture) while not blurring the rest of the shot too much that it eliminated any sense of context. I also like the black spots on the inside of the paint can, and the completely dark edge of the shot on the right. There's even a subtle yellow glow on the lower-right thanks to a bit of sunlight creeping into the shot, though ultimately I'm not sure if that adds to the image or diminishes it a bit. Jury's still out, I guess.
What I do know is that this was a really fun shot to take. I didn't crop it and used almost no editing at all other than just some basic light/shadow adjustments in Lightroom. Basically, what you see here is pretty much exactly what came out of my camera, and it all served as a great reminder that if you can't find any photo opportunities around you, you probably just aren't looking hard enough :)